This is the first company of Kabbani Construction Group KCG. Since its inception in 1980, and for the past almost three decades,BMC has executed over forty million square meters of complete waterproofing and damp proofing systems. Since then, BMC has developed a niche market for the single-ply membrane systems to meet the increasing demand for effective waterproofing protection of modern construction. With over 1000 of highly skilled and experienced application and supervision body, BMC ranks as the largest non-franchise single-ply membrane roofing contractor and distributor in the world. The company is recipient of the Golden Hall of Fame Recognition award by Carlisle – USA for quality compliance a
1. Water proofing and damp proofing for substructures, tunnels and tanks, etc. using:
EPDM systems
APP and SBS modified bituminous membrane systems
PVC, HDPE, TPO, and hipalone membrane systems
Hot and cold fluid applied water proofing material and crystalline capillary water proofing Systems
2. Roofing and thermal insulation using:
Built-up roofing systems
Inverted and conventional roofing systems
Polyutherane sprayed in- situ systems
Liquid applied roofing system
All roof retrofit systems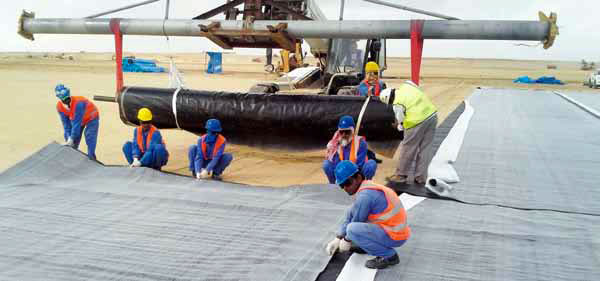 3. Water proofing for wet areas
such as: Kitchens, bathrooms, laundries, planters, balconies etc….
4. Lining systems for water containment structures:
Potable and service Water tanks
Septic tanks and manholes
Swimming pools, Jacuzzis, water fountains and lagoons
5. HDPE Liner System – BMC has over 20 years of experience and over 10,000,000 SQM in the supply and installation of HDPE geomembrane materials.
6. De-Watering and Shoring System – BMC has completed many large scale dewatering projects successfully since it added this line to its existing activities in 2011 and it is continuously expanding this line.